You are in: Beach Club & Tours |

Beach Club


Almaplena Beach Club is located just 20 minutes south from Costa Maya Port and Mahahual village, set in the heart of the Mexican Caribbean and along the magnificent white sandy beach of Puerto Angel Area.

Where the turquoise blue-green waters meet white sandy beaches ... an intimate and
friendly place away from crowds, ideal for those seeking relaxation and privacy... this
is Almaplena Beach Club, a new concept that could be defined revolutionary if it weren't
so simple.

Spending a few hours of rest in a hammock, strolling along the beach, enjoying the
sun, exploring the coral reef... in a relaxing and exclusive atmosphere.

The bar and restaurant are located directly on the beach just a few steps from
the sea, the splendid beachfront raised terrace allows lunches and panoramic dinners while
the breeze of the sea offers its natural freshness.



" Almaplena Beach Club... a place with a rhythm of its own "


Snorkeling lovers can enjoy the spectacular Meso-American reef of Costa Maya, the 2nd largest barrier reef in the world; just beyond the beach and with a short swim it's possible to reach an excellent diving site (called Puerto Angel Diving Site) which offers the chance to admire the beautiful colorful fish and the corals of the Mexican Caribbean.




Beach Club Amenities:

Private Beach of 30.000 ft
Panoramic Restaurant Terrace
Umbrellas & Shaded areas
Lounge Chairs
Restrooms & Showers
Dressing rooms
Free Internet Wi-Fi
English speaking staff
Private Parking


2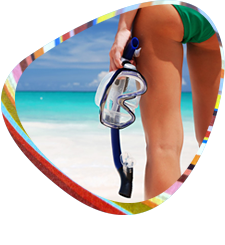 Carretera costera Mahahual-Xcalak, Km 12.5
77940 Mahahual (Costa Maya) - Quintana Roo, México.


Email:

info@almaplenabeachresort.com


All rights reserved.


All Copyright and other Intellectual Property rights in all Designs, Text, Images and other materials on this website are owned by Tres Jaguares S.a. de C.V..
No part of this site may be reproduced without the written permission of the copyright owner. Almaplena is a registered trademarks of Tres Jaguares S.a. de C.V..