You are in: Beach Club & Tours |

Beach Day F.a.q.


Costa Maya BEACH DAY FAQs (for cruise ship passengers)
The following are frequently asked questions concerning shore excursions for cruise ship passengers, at Almaplena Eco Resort & Beach Club in Costa Maya - Mexico:

How far is your Resort from Costa Maya Port?
Almaplena Eco Resort & Beach Club is located just 20 minutes drive from the Port.

How do we get to your Beach Resort?
Transportation to and from the Costa Maya Port is included in the Beach Break Reservation,
from the port you will take a taxi getting off at Almaplena Eco Resort & Beach Club, coastal
road Km 12.5.
If you are renting a golf cart we can provide maps and driving directions that will
lead you right to our Beach Resort.

What would happen if my ship does not come to Costa Maya?
100% cash refund if your ship does not dock in Costa Maya for whatever reason.

Is the Resort suitable for children?
Yes absolutely. The beach is wide with a lot of space to play, however we do not have a specific
program arranged for children.
Our Beach Club provides a very good daily cleaning of the beach to assure a pleasant stay of every guest and especially to maintain a safe environment for children; no sea grass and no rocks.

What should I bring with me?
Bring your cruise ship towel, sunscreen and a swim wear.

Bring your own snorkeling equipment if you like to experience the fantastic underwater life with lots of corals and tropical colourful fish. In front of our beach resort there is an excellent snorkeling site, just 54 yard (50m) from the shore.

Will I be expected to tip the Staff?
Tipping is not required and is not expected; however if you feel the quality of the service you have received deserves it, the staff will certainly appreciate it.

Is Almaplena Beach Resort a loud place?
Absolutely not. The Resort is far away from downtown loud party places, its privacy and tranquility remain assured.
The background music is a gentle accompaniment for our guests relaxing on the restaurant terrace and on the beach all you can hear is the sound of the waves laping into the shore.

Do you accept groups? Do you limit the number of guests?
Certainly yes, groups are welcome and we have special rates for them.
Almaplena Beach Resort provides a daily limit of 20 guests and an all-inclusive service to ensure our guests, relax, their privacy and quality service. However, for special events (as weddings, vows renewal, birthdays, anniversaries, baptisms, etc.) it is possible to reserve the entire property. Our beach of over 30.000 square feet can accommodate groups of more than 100 people.

For special pricing of larger groups please contact us.
For a private party check out our page "Weddings & Events".

Do you supply beach towels?
Please bring your cruise ship towels. We do not provide beach towels because as an Eco Resort we minimize laundry and water usage, to reduce environmental impact.
However, if you forget your towel we have some available for the extra cost of 3 dollars.
Is your beach free of sea grass and rocks?
Our beautiful sandy beach and the crystal clear sea water are free of seagrass or rocks.
The beach quality is excellent, we rake it each morning to ensure that is clean.
if you're looking for an idyllic, secluded beach of powdery white sand that meets crystal clear turquoise waters, at Almaplena you'll find one of the Mexican Caribbean's most spectacular beach.

Is it possible to snorkel?
Yes, of course it's possible. Almaplena guests are very lucky because right in front of the beach club, just 54 yard (50m) from the shore, there is a great spot for snorkeling called Puerto Angel Diving Site.
You won't need to take a boat tour, only with a short swim you can to admire the beautiful tropical fish and the corals of the Mexican Caribbean.
The renowned Costa Maya Meso-American Barrier Reef (the second largest coral reef system in the world) is located 109 yard (100 m) from the shore.
Snorkeling equipment is NOT provided, so please feel free to bring your own.

What kind of facilities has your Beach Club?
We provide free Internet Wi-Fi on our panoramic Restaurant Terrace; on the beach we have umbrellas, shaded areas and Lounge Chairs.
Our beach club also comes with fresh water showers, clean restrooms and dressing rooms.
If you visit us with a golf cart take note we have a private parking.

Is the beach club suitable for eldery or wheelchair users?
At this time the beach club has a reasonably good access for eldery guests, but is not yet suitable for wheelchair users.
Almaplena cares for people with mobility disabilities, that's the reason the main entrance, the beachfront restaurant and the bathrooms were designed considering this issue.
Unfortunately the disabled facilities are not yet completed.

Do you supply cakes for beach birthday parties?
We will be glad to prepare a cake for you, we want to help your day be extra special.
Please let us know well in advance so we can propose you different kinds of cakes to choose from.

What happens if it rains?
Almaplena is prepared for all situations. There is plenty of space in the indoor venue so there will always be a place to get in out of the rain. Usually rain showers are hard but short-lived and then it gets sunny.

The sand burns?
Certainly not. We are in the Caribbean where the white soft sand never gets hot, you won't burn your feet no matter how high the temperature.
The sand here is made of tiny fossils of microscopic coral, it's powdery silky soft.
At Almaplena Eco Beach Resort you will find a relaxing peace of mind, forget your worries and kick off your shoes, feel the sand between your toes and take a stroll barefoot down the beach.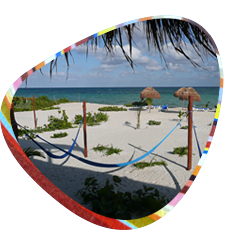 Carretera costera Mahahual-Xcalak, Km 12.5
77940 Mahahual (Costa Maya) - Quintana Roo, México.


Email:

info@almaplenabeachresort.com


All rights reserved.


All Copyright and other Intellectual Property rights in all Designs, Text, Images and other materials on this website are owned by Tres Jaguares S.a. de C.V..
No part of this site may be reproduced without the written permission of the copyright owner. Almaplena is a registered trademarks of Tres Jaguares S.a. de C.V..